Strict Standards
: Only variables should be assigned by reference in
/var/www/clients/client2/web3/web/templates/cheverny/html/com_k2/agenda/item.php
on line
20

First Wine Fair
.Château de Cheverny launches its first Wine Fair!

On Saturday 7 March, from 2pm to 8.30pm (ticketing office open until 6.30pm) and Sunday 8 March from 10am to 5pm, in the Orangerie, 12 wine-growers from different regions of France are invited to promote their terroir. "All of these domains share the same dynamic, namely to develop towards organic farming - if it isn't already the case -, but also to develop with innovative methods and a desire to promote their terroir. "
"This event, organised with Anne-Sophie Lepain and her company, Arôm'Art, aims to combine heritage, know-how and arts", explains Constance de Vibraye. "In addition to the wine fair, there will also be an art exhibition all weekend long and a musical event on Sunday from 11am to 1pm. It's the opportunity to taste wines from all over France in an exceptional setting and atmosphere..."
Vineyards represented: Alsace, Beaujolais, Bourgogne, Bordeaux, Champagne, Côte du Rhône, Languedoc- Roussillon, Sud-Ouest and Vallée de la Loire.
• Château La Peyre, Bordeaux.
• Clos de Noël, Sud-Ouest.
• Domaine Passot, Beaujolais.
• Domaine de Gaïa, Languedoc.
• Domaine Albert Morot, Bourgogne.
• Champagne Bauser, Champagne.
• Domaine des Sardelles, Sancerre.
• Château Coupe-Roses, Languedoc.
• Domaine Karcher, Alsace.
• Domaine des Bergeons, Touraine, Vouvray.
• Vignoble du Gros Caillou, Bourgueil, Saint-Nicolas de Bourgueil.
• La cave La Gaillarde, Côtes du Rhône.
• La Maison des vins de Cheverny, Cheverny.
As a reminder, the vineyards of Château de Cheverny are set to produce the first bottles of "Cru du Marquis de Vibraye" in 2022.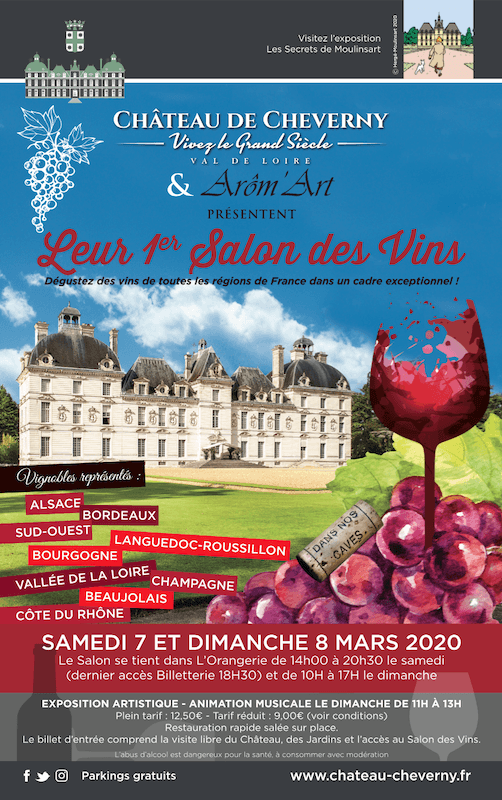 Practical information:
Wine fair opening times:
• Saturday: 2pm to 8:30pm (last tickets can be purchased at 6.30pm)
• Sunday: 10am to 5pm
Castle and gardens opening times:
• From 01/01 to 30/03 : 10am to 5pm
Entry prices to the Chäteau and gardens (wine fair included):
• Adult: €12,50
• Concessions (adult with a family of at least 3 children, children aged 7 to 14, student under 25 ): €9
• Child (under 7): free
• Person with disability: free + standard rate for accompanying person.
Free Parking